ABSENCE: Verdict of Silence
Version 0.2a - "The First Steps"
---


Please check back often for New Updates, See below for more details.

Version 0.2a - "The First Steps"


We're proud to announce the 0.2 ALPHA update of ABSENCE: Verdict of Silence is here! This update brings many new items, art, areas, fixes, improvements and much more! We are also keen to introduce several new core game play systems that were still early in development at launch. Patch 0.2 has a strong focus on optimization and bug-fixing, we hope to provide a globally improved experience for all players. Users on lower end hardware should see a significant increase in performance in open world areas such as Felodrift.
For more detailed Information, see the change log below.
With our first public patch we are keen to show that we are listening to player feedback. We have attempted to include changes/improvements/alternatives for all issues that we have received feedback on.
We hope to continue working closely with our community in order to make ABSENCE: Verdict of Silence the best game it can be.

We look forward to sharing more adventures with you, in the world of Asalthana!


THANK YOU!

We would like to thank our community for supporting us through this difficult time, with our early stages of development.
Your Donations, Patreon Support and Itch.io Purchases, directly impact the number of hours we are able to invest in the project.
We would also like to thank those community members who have posted to the forums and shared their experiences with us.
Your bug reports, feed back and suggestions are invaluable to us!
Thank you for supporting us!

Thank you for supporting LGBT inclusive content!
Thank you for supporting Indie Games!
Thank you!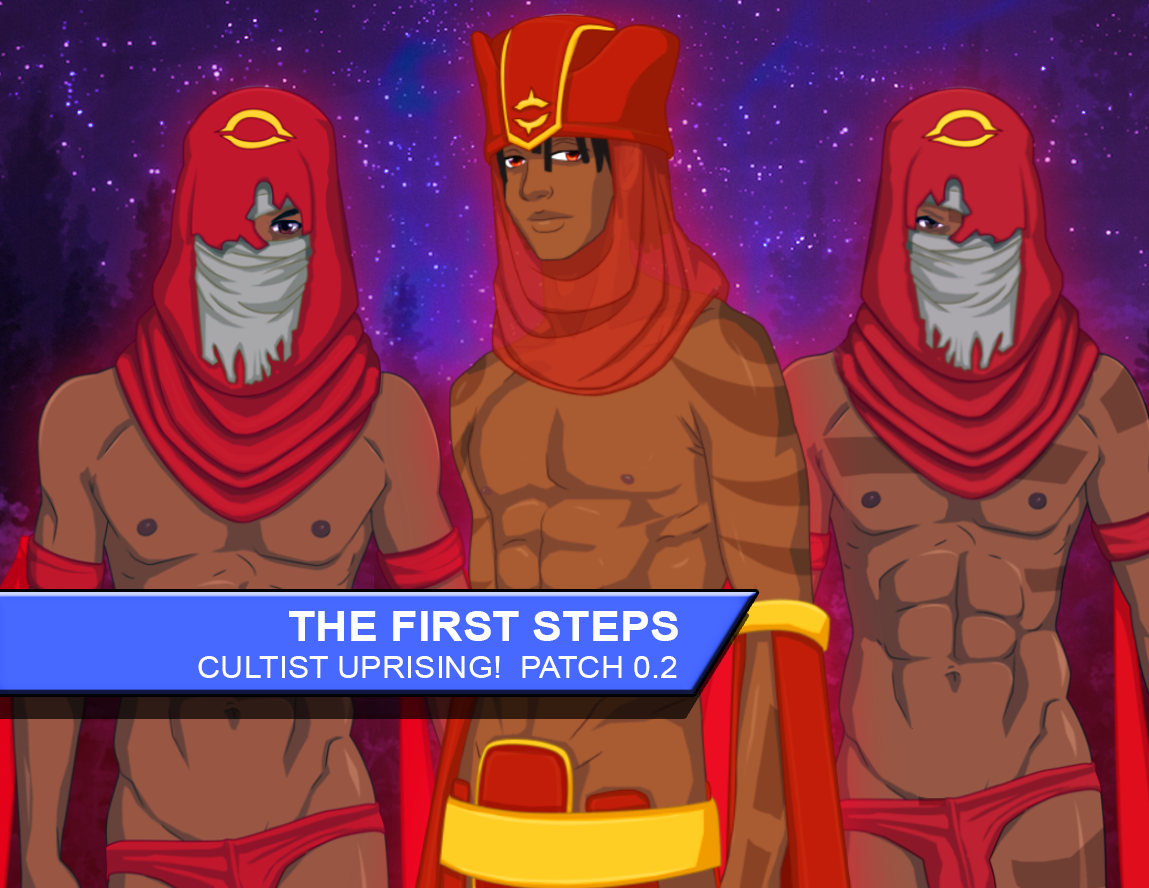 The "Skills" System
"Skills" are a new D&D styled system that allows you to give you and your party members characteristics that affect a variety of things, from being able to perform environmental actions (such as climbing a wall), to allowing them to persuade someone to do something.
This system will be implemented in newer content, as well as having been retrofitted in a large amount of previous content. Many previous options that served as "RP" decisions now rely on the skill system to give the player a greater depth of choice in dealing with certain situations.
Moving forward, this system will become a deeply integral part of non-combat gameplay, introducing a depth of choice, as well as divergent gameplay.
The Skills system operates both invisibly, and visibly, with many skill checks being performed in the background for certain actions, such as camping or harvesting resources, and offered as optional checks to the player for situations such as picking a lock.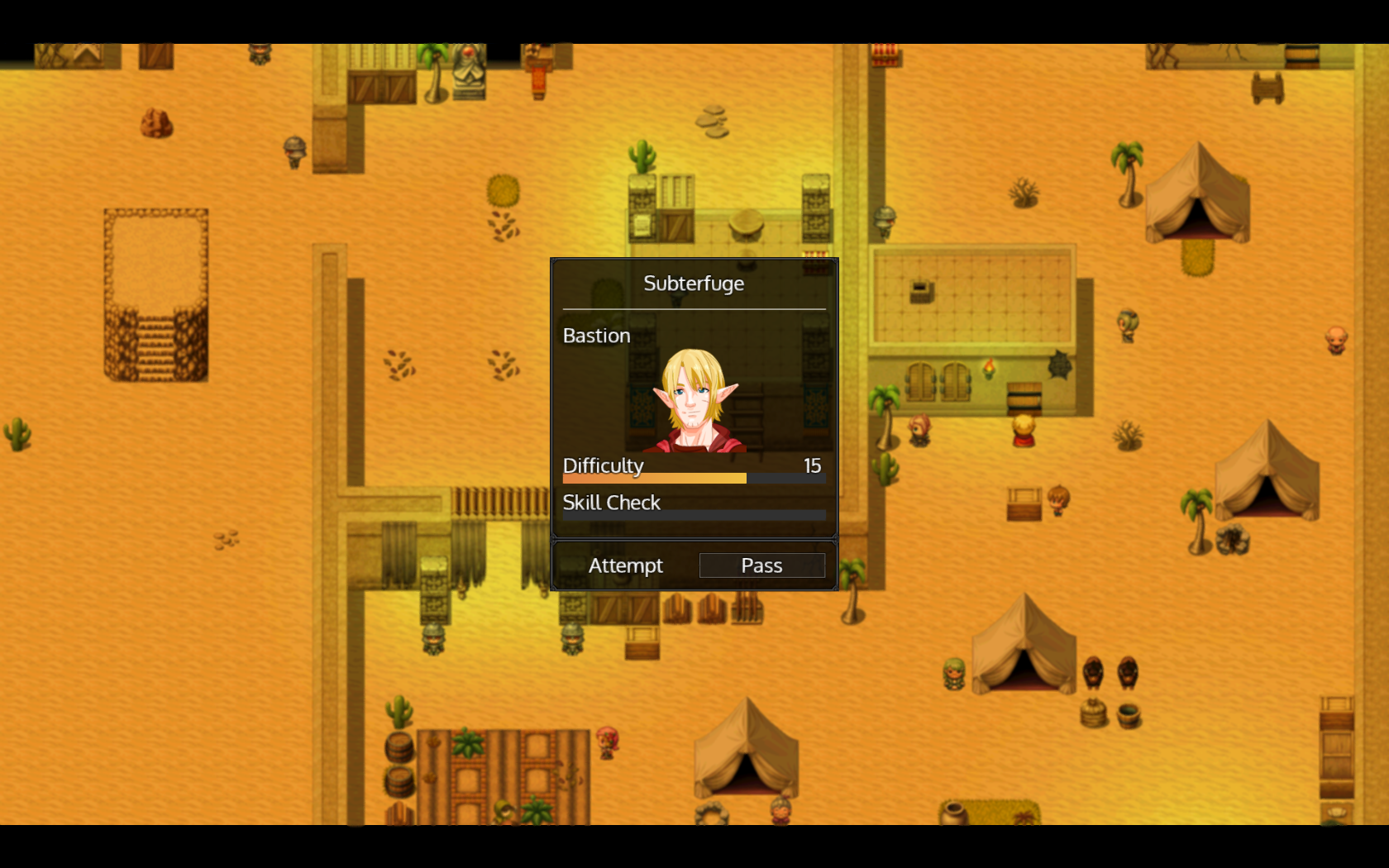 World Optimization
As with any piece of software, Optimization is a key factor in creating something that will run smoothly for the end user. In this update, we have taken a look at several key maps, systems and situations that were causing the largest interruption to a normal play, and tweaked and changed this to create a smoother experience.
The most notable of this is the new version of Felodrift, which has now been segmented into four separate maps. Functionally, the experience in these maps will remain the same as the previous version of Felodrift, but there will be a short loading screen when you cross a passable border.
This redesign should make the game more accessible to players on lower end hardware, as well as allowing us to have more depth in terms of the mechanical detail with things such as NPCs, Mini-Dungeons and Quests.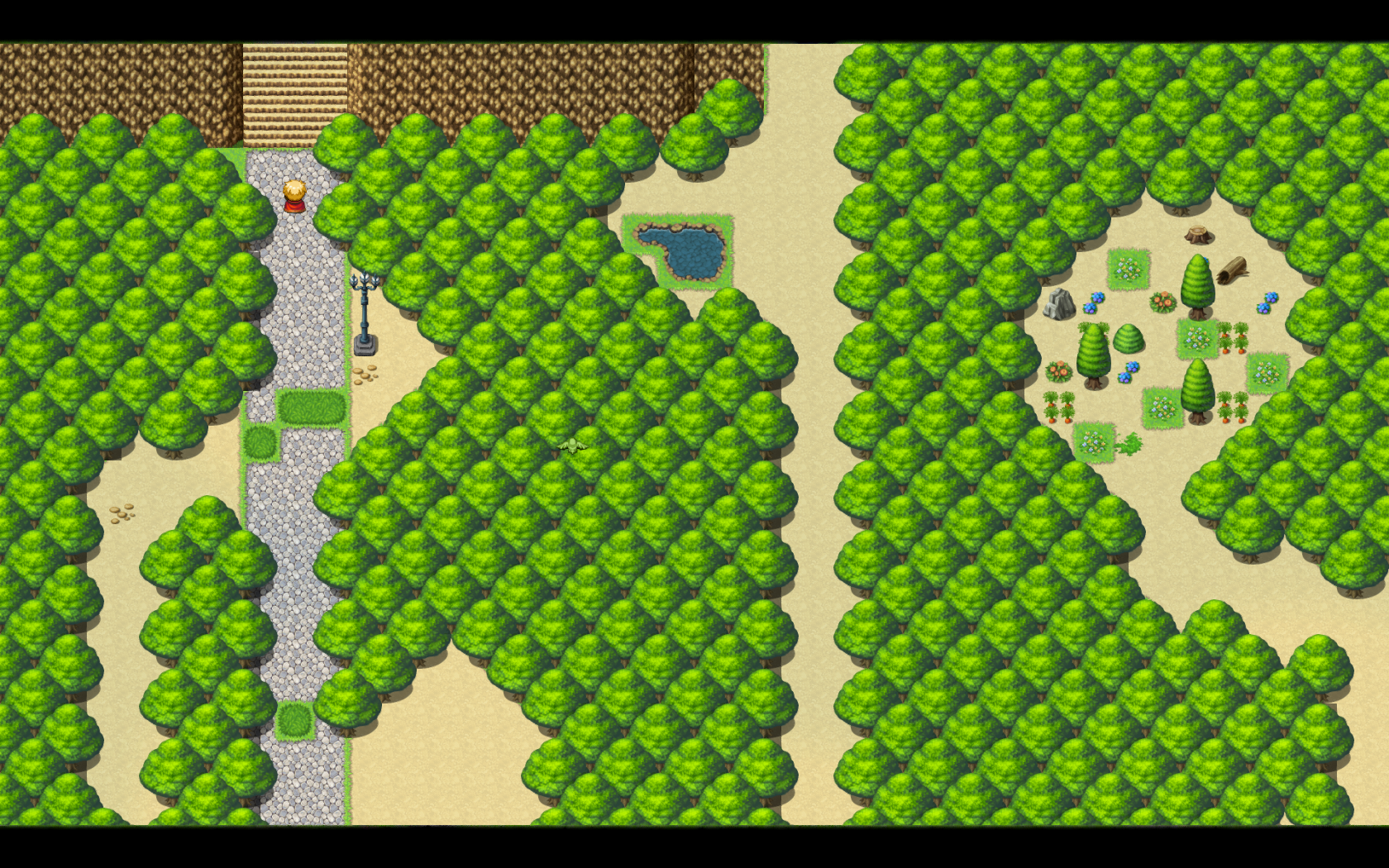 Quest and Dialogue Redesign
In this patch, we've taken a critical eye to many of the game's quests and dialogue. Many quests have had minor design changes or flow changes that should make the questing experience a little bit better, and less frustrating.
In addition to this, there is now a number of new, introductory "breadcrumb" quests that will lead players to game mechanics or companions that were previously less obvious to the player. These quests should pop up naturally during the player's journey in the Main Story, and will guide you to new or existing features that will help you on your journey.
Many other quests have received one or many tweaks, both to reduce difficulty or obfuscation, or to create a more pleasant experience for the player. This includes things such as more descriptive quest objectives, as well as items or NPCs to help you on the way.
New Tradeskills
New in 0.2a is the tradeskill "Alchemy". Alchemy finally gives herbs a better use for players, beyond being minor buff and enhancement items.
Using the new Alchemy tradeskill, a player can turn herbs and other ingredients into useful potions, or deadly alchemical concoctions such as bombs or flasks.
This tradeskill can be accessed by using the Alchemical Workbench in any magical shop, or by obtaining a "Portable Alchemy Kit", which allows the player to perform Alchemy from anywhere.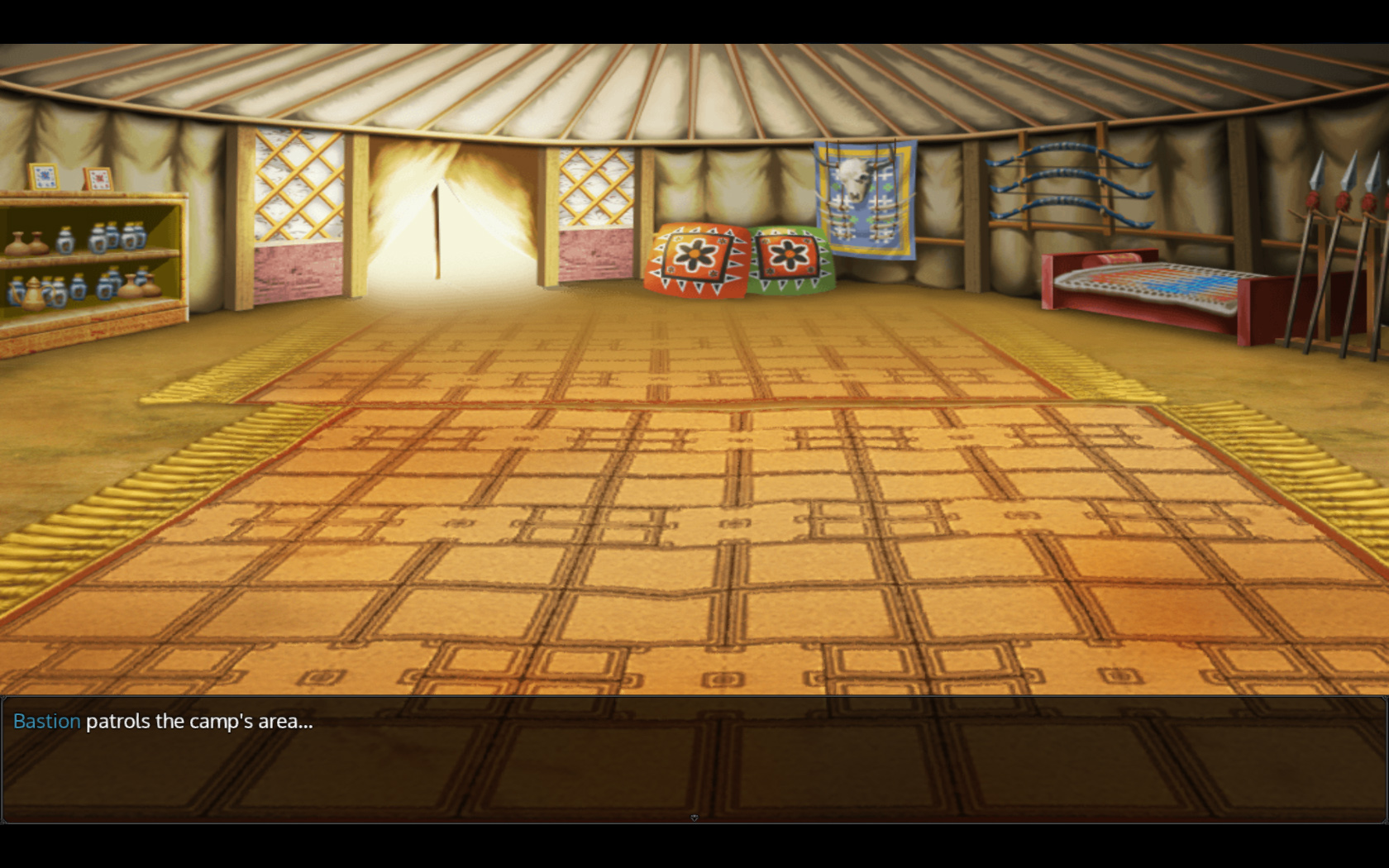 Camping
A new feature now available to the player in 0.2a is "Camping". This feature allows the player to recuperate in the wild, without needing to spend Mana or items.
Camping allows the player and their party to sleep for the night, gather food and tend to injuries. The effectiveness of this is directly tied to the player's skills.
For example, a player with a higher Nature skill will have an easier time finding food for the party during camping.
To begin camping, you must have at least 1 of the new item, "Camping Supplies", and use it from your inventory.



With the advent of 0.2a, we have shifted from using our own in-house launcher, to using the itch.io launcher. For new players, this should not be an issue as they can directly download the new version from either the website (as a standalone product), or from the itch.io launcher (as an updatable product.)
For existing players, the may choose to download 0.2 and start fresh, either as a standalone or through the launcher. Savegames from 0.1a are not necessarily compatible due to the amount of structural changes in the game, but if a player wishes to transfer their 0.1a save to 0.2a, they may do so through the following:
Navigate to your Verdict install folder (Usually located in C:/Program Files/), or right click the shortcut, click Properties and click "Open File Location".
Open the "www" directory.
Copy the "save" directory.
Navigate to your newly installed version of 0.2a, either standalone or itch.io launcher, if you are using the Launcher, select the game, click the cog, click the installed version and click "Open Folder in File Explorer"..
Open the new "www" directory.
Paste the "save" folder into this directory, and confirm to overwrite if prompted.
Please note that using older savegames may result in unexpected behaviour, or corruption of the game files, and as such we can only provide limited support for users of this option.

Aside from these immediately noticeable changes, a multitude of back end and minor things have changed, balanced, re written/improved, (For example: bug fixes, tweaks and stability). Listed below is a more in-depth change log for those who are interested in the specifics of each update, as well as a brief explanation of each entry.

CHANGE LOG
New Feature: Character Race System.

Characters now have races, that affect their base stats and skills. They also now have Racial abilities that provide minor buffs or bonuses.

New Feature: Stat System.

Many functions in the game now rely on Stats, using both visible and invisible rolls that allow the player to better tailor their character to their play style.

QoL change: Felodrift redesigned.

Felodrift has been split up into four different parts, proving a boost in performance for lower end hardware.

QoL change: Tutorials redesigned.

A large majority of the beginner tutorials have been redesigned to cover more features of the game, as well as minor changes to flow making them less frustrating and more interesting.

QoL change: Unleash abilities moved to Level 1.

To provide a more dynamic combat experience, as well as to allow the player to learn the Unleash mechanic, it has been made available from Level 1

Bug Fixed: Alan's Pack

A bug in this quest prevented certain players from completing this quest, due to an event not spawning. This has been remedied and should be accessible for everyone now on.

Bug Fixed: Incorrect Party Characters

A bug in the dialogue system caused incorrect characters to display. A custom system has been implemented to remedy this.

QoL change: Dialogue always defaults to none

Some dialogue often popped up mid conversation, causing players to accidentally make an incorrect choice. To remedy this, all dialogue choices are now defaulted to none, and require an extra input to activate them.

Improvement: Dialogue

A large amount of dialogue has been rewritten or extended, as well as now including a new, anime-styled conversation system.

QoL change: New Party Member Catch-up

New party members will now join your party at a similar level to other actors in your party, as well as starting with a pool of Ethos to spend. This should prevent many party members getting left behind.

Bug Fixed: Permanent Brand of Io

An error in quest sequencing caused certain players to be permanently afflicted with the "Brand of Io" debuff. This was extremely detrimental to game play, and has been remedied.

QoL change: Monster Spawn Rates

New items have been added to certain vendors that allow you to either increase, or prevent, monster spawning for a time. They are consumable and can not be stacked.

QoL change: A Dark Shade

This quest now offers an item that will help direct the player to the hidden keys.

Improvement: Dynamic Spawning

A number of world items, such as animals, ores and herbs, have been added to the dynamic spawn system. This improves performance and reliability of their spawning.

Improvement: Mini-Dungeons

Mini-Dungeons, or small explorable areas, have been added across the map in the form of houses, caves and holes. These contain a variety of new, hidden quests!

Bug Fixed: Camp Beds

Previously, a bug prevented camp beds from restoring health to certain party members. This issue has been resolved.

Improvement: New Busts

Several NPCs have received new art.

Improvement: Analytics

The game will now record and send a variety of anonymous data about your gameplay, that will be used in order to further development of the game. This should not affect gameplay in any manner or scenario.

QoL change: More Tradeskill nodes

A variety of extra harvest nodes have been added, as well as a scattering of tradeskill stations to make it easier to craft items.

QoL change: Breadcrumb quests

Several features in the game will now be shown to the player via a Breadcrumb quest.

Tweak: Monster Defence

The global defence scaling of all monsters has been increased slightly.

Tweak: Boss Defence & HP

Certain bosses have had their defence increased slightly, as well as their health.

Tweak: Throwable damage

Throwable items have had their damage curve increased, to make them a more viable contender for spells.

There may be a number of undocumented changes, tweaks or fixes, however they are minor in nature, or may pertain to secret quests/content.




ABSENCE: Verdict of Silence is currently in an Alpha Demo state; Meaning that while the game is mostly playable - some systems, features or content may still be missing or incomplete.
A purchase of ABSENCE: Verdict of Silence in this state entitles you to all future updates and content released without requiring a new purchase. The price of the full game will be higher for those who wait for the project to leave Early Access.
If you encounter any bugs, problems or would like to suggest a new idea or feature, or just provide feedback, please head over to the Discussion Forum.



Thank you!
Files
ABSENCE: Verdict of Silence 0.2a (Windows)
858 MB
ABSENCE: Verdict of Silence 0.2a (Mac)
996 MB
ABSENCE: Verdict of Silence 0.2a (Linux)
867 MB
Get ABSENCE: Verdict of Silence